MEMBERSHIP SYSTEM
Background of DAAAM International Membership
DAAAM International is a large international Network which includes thousands of active people and institutions. The number of people, activities and publications have been continuously growing during the last thirty years.
We want to keep the high quality of our activities, and we expect a significant growth during the coming years. For that reason we have introduced a new method for organization and archiving. Many DAAAM Memebrs have asked for the formalization of the membership. Therefore, in 2009 we have introduced DAAAM Membership for individuals.
Membership for Individuals
Membership is obligatory for all individuals who want to take a part in DAAAM activities. (Only a registered DAAAM Member can be: author, coauthor, member of committee, participant at conferences, person listed in publications, person listed on web site, organizer, reviewer, supporter and sponsor)
A registered DAAAM Member will receive a password and a daaam_personal_number (dpn). This number is assigned to one person "forever", and is not changeable.
Membership for individuals is free of charge
Membership is limited to one year – it starts on the 1st of January and expires on the 31st of December of the year
Newcomers can apply for new membership and old members can prolong their membership by completing the Membership form for every year. After accepting the application, DAAAM will officially inform the candidate by e-mail, about acceptance or rejection.
Accepted candidates will get their daaam_personal_number (dpn), password and membership confirmation via Email. A member can start with DAAAM activities, only after being accepted (newcomer) or after renewing their membership (old members).
DAAAM authors club
Since the first symposium, 9217 authors and co-authors have published their scientific papers in the Annals & Proceedings of DAAAM International Symposium. Since 2007 all papers from European DAAAM International Young Researcher and Scientists Conference are published in the Annals & Proceedings.
For DAAAM International Authors (Symposium and/or European Young Conference) we established the following clubs:
Newcomer Authors Club (for Authors who published and/or presented papers on this year's DAAAM International Symposiums for the very first time)
5+ Authors Club (for Authors who published and/or presented papers at least 5 DAAAM International Symposiums)
10+ Author Club (for Authors who published and/or presented papers at least 10 DAAAM International Symposiums)
15+ Author Club (for Authors who published and/or presented papers at least 15 DAAAM International Symposiums)
20+ Author Club (for Authors who published and/or presented papers at least 20 DAAAM International Symposiums)
All DAAAM Symposiums Club (for the Authors who published and/or presented papers at all DAAAM International Symposiums)
Authors who are coming to present their paper(s) on their 5th, 10th, 15th, 20th, 25th or 30th Symposium will be honored with an exclusive DAAAM International Authors Club Certificate during the Symposium Dinner and Award Ceremony. The Certificates are personal, attractive, professionally designed, framed and are ready to be hanged on your favorite wall!
---
Expand Membership Matrix - Ranking System for Individual DAAAM Members
(Double Click for full screen view)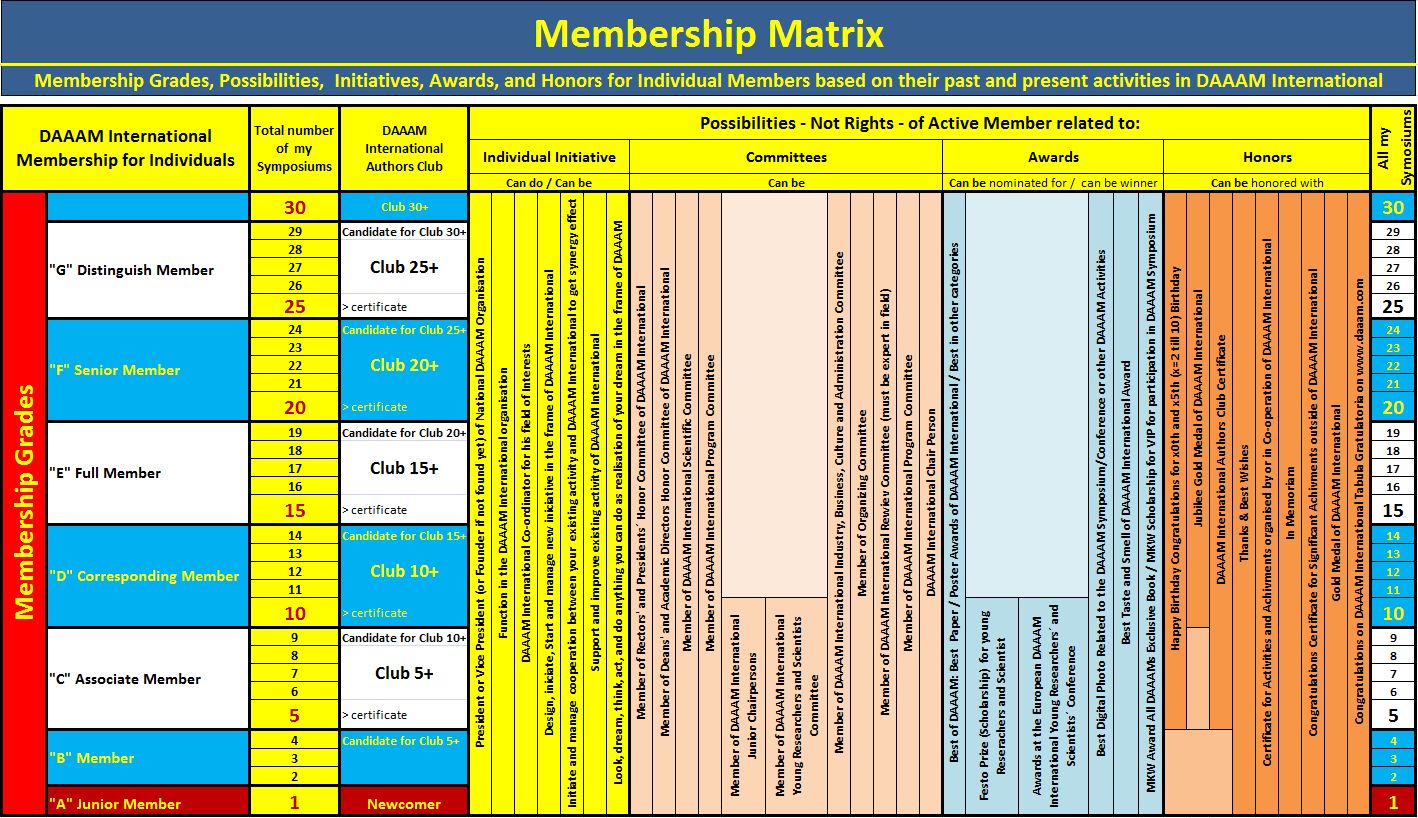 ---
DAAAM Membership Certificate is a professionally designed, representative, official DAAAM document with a dry seal. It represents a confirmation about membership for members and their rank within the DAAAM organization. It is meant for DAAAM members who want to have it.
If you want to order it, please go to Payments and follow the instructions. (Fee is 10 EUR, and it is not sent through post – it can only be picked up by you or your representatives at the registration desk during DAAAM Symposium.
Membership Certificate was introduced in 2009. First one was given to our oldest DAAAM International founding member Professor Dr Rudolf Julius Beer (85+ Years) (Double click on the figure for full-screen view)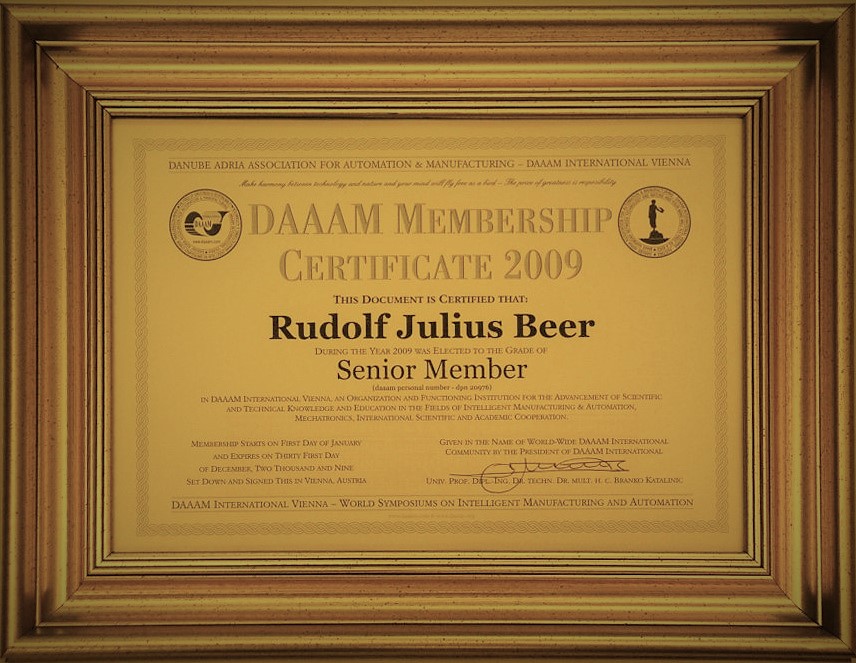 (Double click on the figure for full-screen view)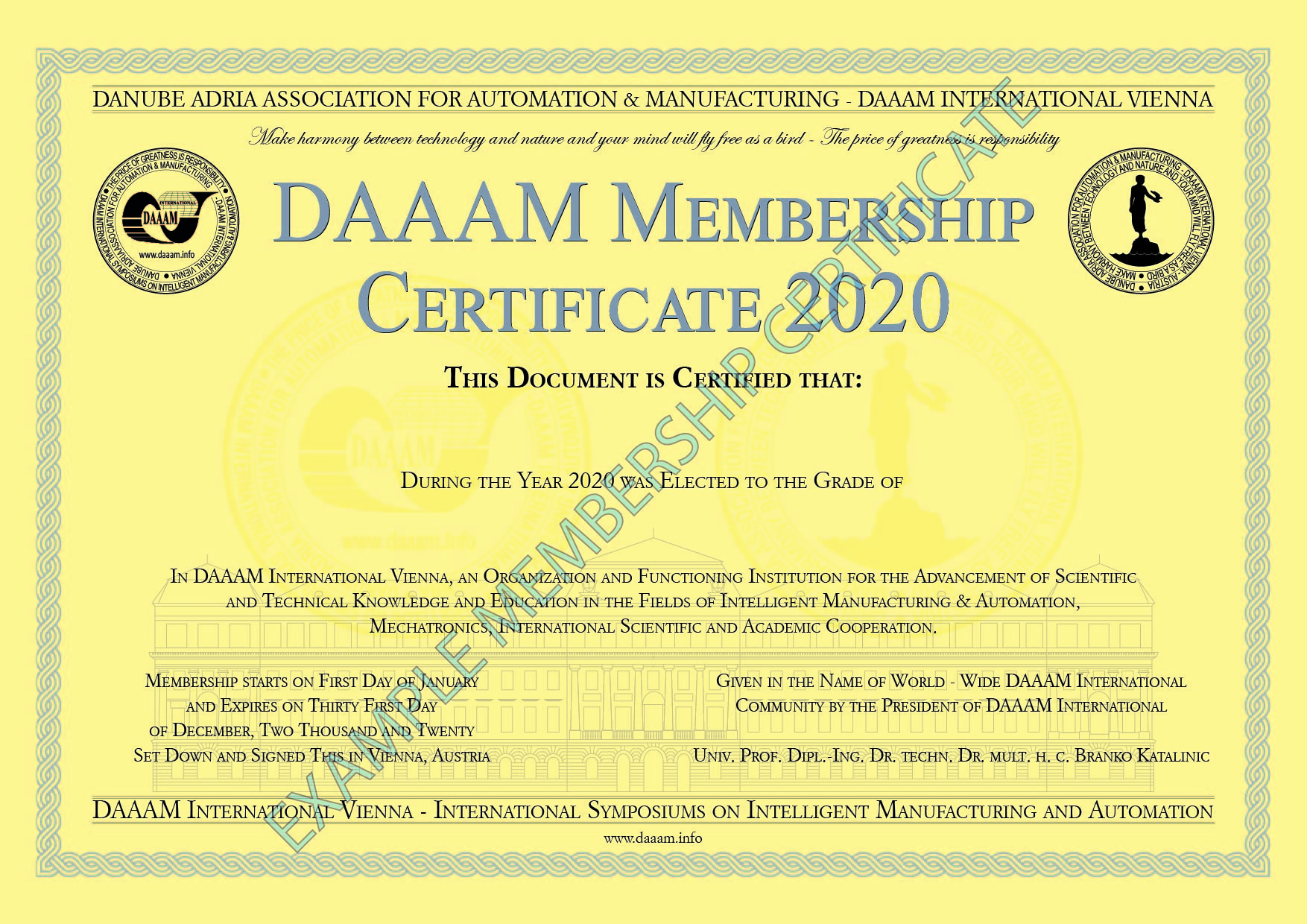 A4 Size
Your Titles, First Name, Family Name & dpn
Your Membership Grade
Signature
Dry Seal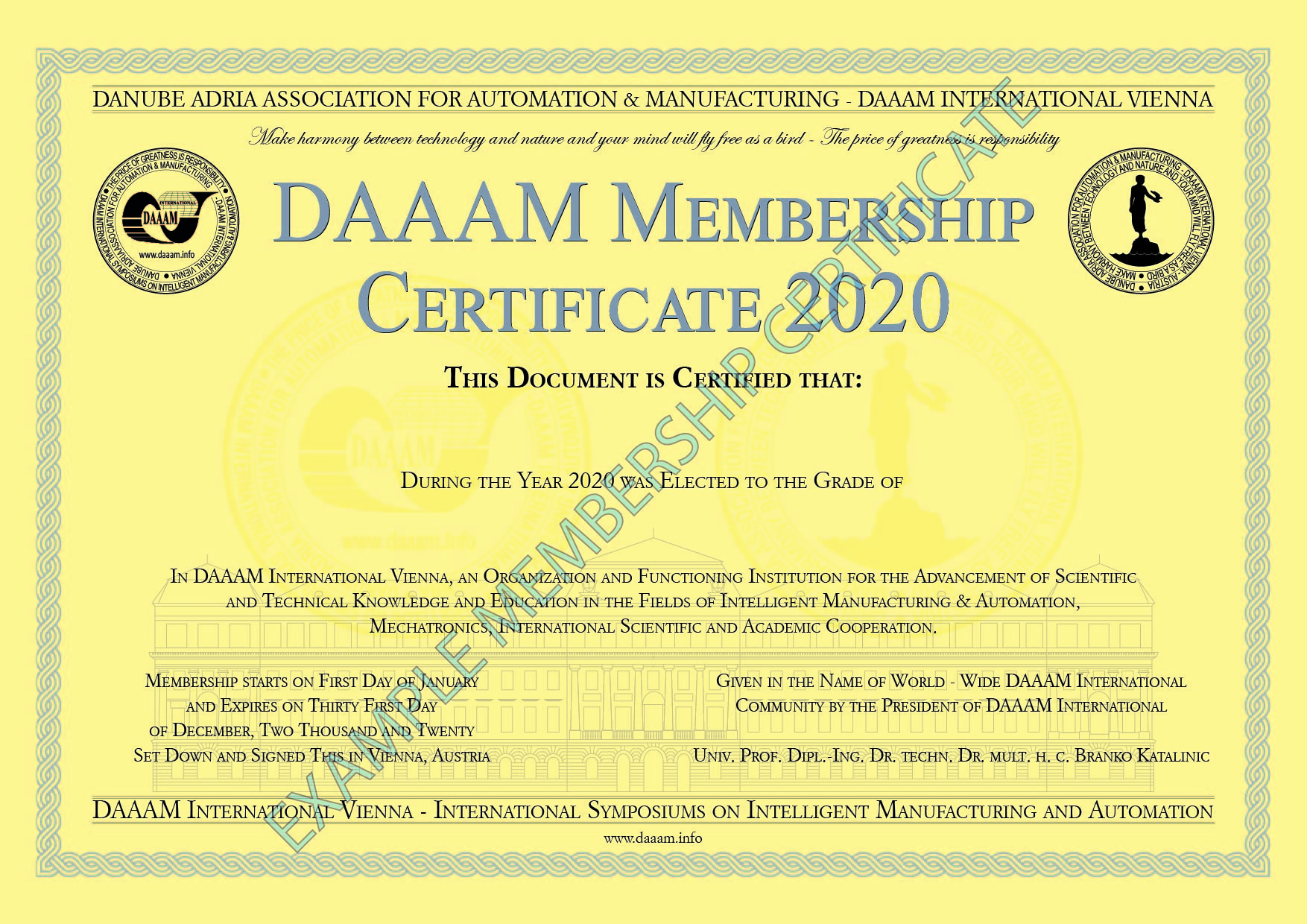 A4 Size
Your Titles, First Name, Family Name & dpn
Your Membership Grade
Signature
Dry Seal